My family and I had such a wonderful time in Abashiri. We found this website, the activities, and Junko by chance. We were planning to go on the drift ice sightseeing cruise (as we only planned to stay in Abashiri for a bit before continuing), but the cruise was fully booked with no room for walk-ins. We stumbled on this website and decided on the soba kaiseki lunch, as it should be short enough to squeeze into our schedule and fun enough for my family (complete tourists). We arrived to Abashiri at around noon, after which we took a taxi to the soba restaurant. We had a full-course meal, from fresh seafood appetizers, soba main course, and a delicious dessert. The chef explains some gourmet details about our food, such as the type of soba (in Japanese, so Junko and I had to translate a bit). One of our family members cannot stand sashimi or raw food, though, but the chef immediately accommodated and grilled the raw seafood on the spot. Afterwards, we had a chat with the chef and his wife in his house, upstairs from the restaurant. It was nice seeing not exactly a traditional Japanese house, but still a very comfortable house with Japanese characteristics. We were very impressed with the chef's many talents in art, sculpting, interior designing, etc. We completely forgot that we visited on Valentine's Day until Junko presented our family with some chocolates. Even more, during our chat, it came up that one of our family members loves tea very much, and the chef's wife even shared some of her tea stock with us! It was a pity the weather wasn't that great on that day, as the view from the garden overlooking the drift ice-filled Okhotsk sea and the Shiretoko Peninsula in the background is supposed to be magnificent. Junko asked us about our train's departure time, and reserved a taxi precisely so we could get on our train with minimal delay. When we found out we couldn't get on the cruise ship, we were prepared to be disappointed. We found a hidden gem and had a wonderful time instead. We strongly recommend this course (and perhaps the other activities) to all travelers in the area.
Junko is an excellent tour guide who speaks fluent English. My family explored the drift ice museum, the prison museum and Cape Notoro with her. She is an interesting and pleasant person, knowledgeable about the area and nature. The guide is great since all transportation, local food options and sightseeing spots are flexibly and inexpensively arranged. This can be especially helpful in Abashiri. The whole experience is smooth and enjoyable, and Junko played an indispensable part in it. We strongly recommend this tour to all travelers in the area.
Abashiri is a small town on the Northern coast of Hokkaido, kind of the end of the world and my dad's hometown. We have no relatives left in Abashiri, but I still had the strong feeling that I wanted to return there when I visited Japan with my parents and boyfriend in October this year. By chance I had come over Junko's website when searching what to do in Abashiri, which is mostly famous for it's prison and possibly the drift ice. It turned out to be a success and our Abashiri visit ended on the top of my list of highlights from the trip. Junko and I had exchanged emails a few months earlier and planned one full day of guided sightseeing including a soba lunch with a special chef. The day before, however, the weather forecast showed rain and we were just wondering if we would have to cancel part of the plan when Junko wrote and suggested to only do the lunch and move the rest of the activities to the following day. This kind of service you don't even expect in Japan. The soba lunch was fantastic and the chef impressed us with his creativity in cooking as well as art, gardening and interior design. The day after we had better luck with the weather and we drove together to lake Kussharo, a crater lake, to watch the view. It was about an hours drive and Junko told us everything about the vegetation, harvesting, industry and history, and answered all our questions on the way. Back in Abashiri we stopped for curry soup lunch before visiting the observatory and rounded off with a magical sunset from Cape Notoro. The tour compiled by Junko based on our wishes and the flexibility and friendliness made these couple of days truly special and became one of those nice experiences that you will for always remember and smile when you look back at. Last but not least, the nature around Abashiri is beautiful with the rough sea always close by, a sea that is not only offering stunning views but also excellent fish and seafood.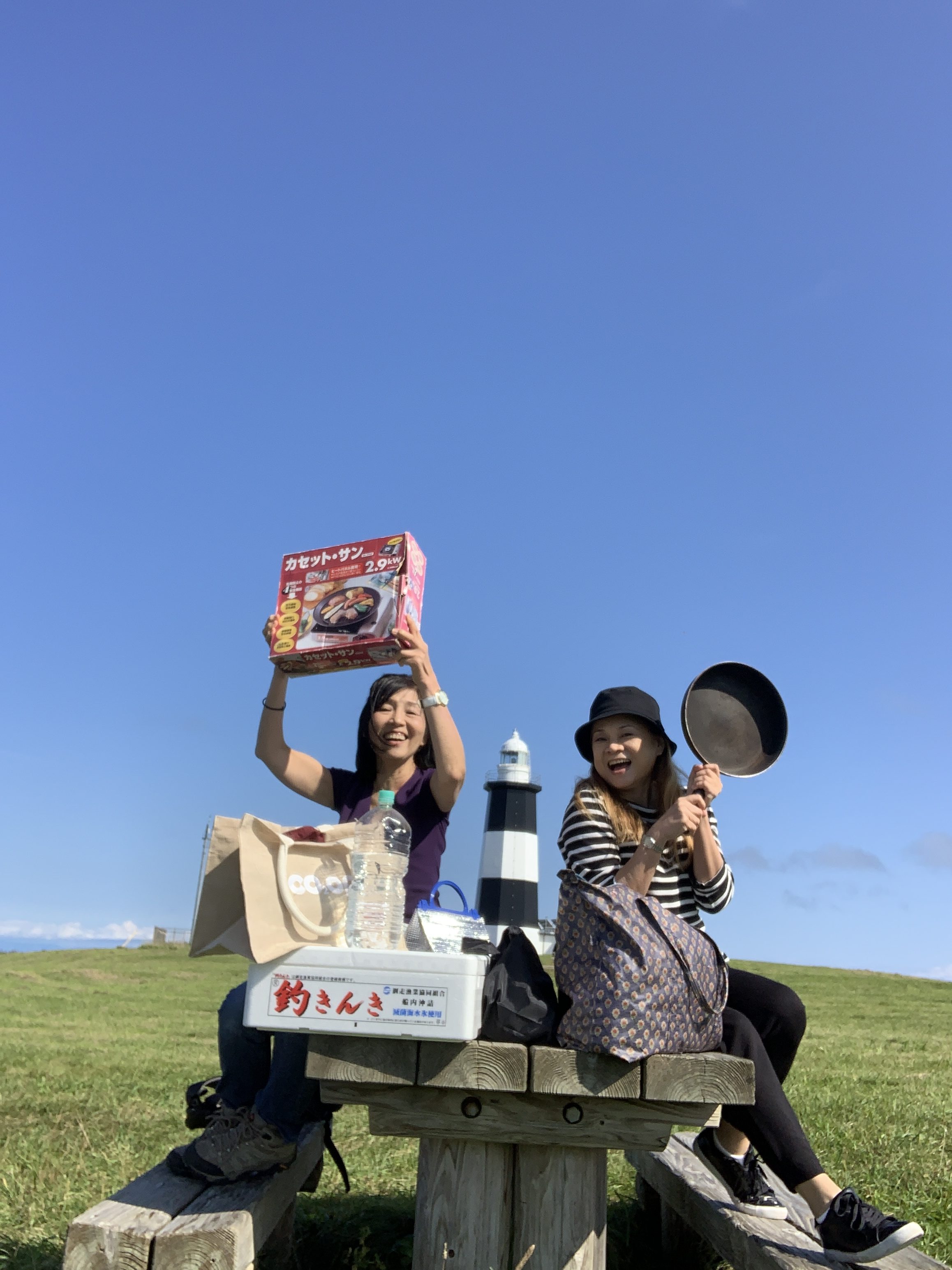 A picnic in Hokkaido cannot do without crab legs and Abashiri Hokkaido What-to-do Where-to-go arranged the best picnic I have ever enjoyed and with the best weather and best view to boot. Junko, the English speaking guide was instrumental in arranging a visit to the local market for me to pick out the crab and get it prepared for the picnic. It is worth having a guide to take you to the attractions around Abashiri like I did. It saved me time and made my visit and experience positively carefree and enjoyable and that's how exploring Hokkaido wilderness should be.
It has been an amazing experience using the tour experience of Junko's tour guiding. We will go back to our home, with the feeling, we visited an exceptional area around Abashiri. We were taken around a complete day ( 8hours), and visited two museums, the surrounding lake, the volcano and had a wonderful private lunch including the famous "soba noodles". The lunch on himself is worth the visit. During the whole day together, we had plenty of time, to discuss about the culture and the people of this area. We are going back, with the hope, to visit again, and learn more about this unique place, and the way of life here.
I booked the soba-making experience while I was holidaying in Hokkaido in early April. Junko went above and beyond as a tour guide! I took the overnight bus from Sapporo to Abashiri, and Junko met me at the bus terminal at 6am even though the soba class was not until 10am. Over the next four hours, she took me on a walking tour of the old town and drove me around to some of her favorite spots that I wouldn't even have known about or been able to access on my own. Junko has such a warm personality, and I had a great time exploring Abashiri with her!
Learning to make soba surrounded by snow-covered woods and looking out on the Okhotsk sea is a wonderful experience I will always treasure. The chef is so kind, patient and knowledgeable, and the soba was absolutely delicious!
Thank you again Junko for making my Abashiri day trip so enjoyable!
My travelling companion and I had a fantastic day being shown around the north coast of Hokkaido by Junko Fukuda. She is a veritable expert on the history and natural history of the Abashiri area, particularly about the drift ice (this is the southernmost place in the Northern Hemisphere that sees drift ice arrive each winter) and the poignant history of the prisoners who built the Hokkaido Military Highway. Junko is really very friendly indeed, evidently has fun meeting new people, and is very open and relaxed with her guests.
A particular highlight for us was when Junko showed us a pristine volcanic caldera lying inland from Abashiri on the way to Teshikaga. It was just breathtaking, and she was so good at explaining the unique things we were seeing.
For those with no Japanese at all, you will be delighted that Junko is outstandingly fluent in English. She is modest about it, but she used to be a high-level professional Japanese-English interpreter. Junko even knows the English names of many of the plant and animal species that the area boasts.
We can heartily recommend Junko for an unforgettable and privileged visit to Japan's least-known extremity.
The Soba-making lesson was such a wonderful experience.
I never knew how much detail went into the process of making soba noodles.
From the precise measurements between water and buckwheat flour, to using a special blade with a specific slice to cut the noodles. The owner of this soba shop was so kind in his teachings and even prepared other dishes for us to eat along with the soba. Everything was delicious. He also told us a bit about his family history and a traditional form of dance with carved masks that were brought from Sendai to Abashiri. Overall, it was such an enriching experience to learn more about Japanese culture, as well as appreciate all the effort that goes into creating soba noodles, so that many people can enjoy them each day.