Soba is the traditional Japanese noodles made from buckwheat. The process of making soba is not only technical but also artistic and requires craftsmanship. It is Japanese culture by itself. Try the challenge in a Japanese ambience that overlooks the Okhotsk Sea and the Shiretoko mountains! It will surely be a lifetime memory!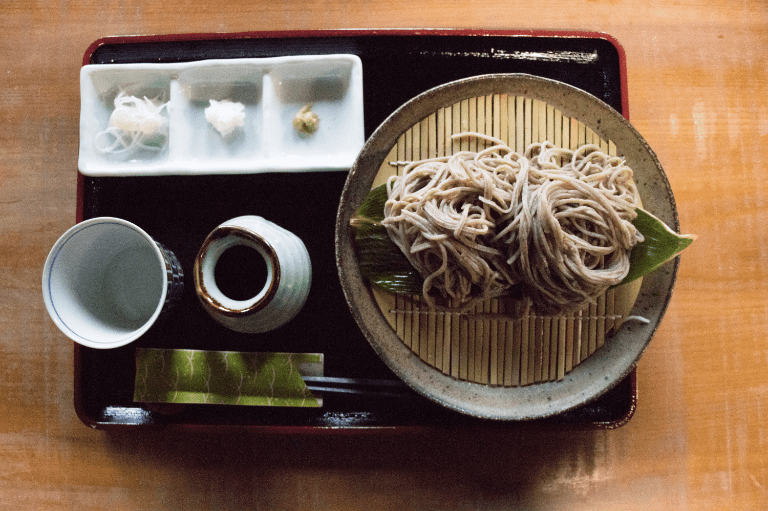 There are many places in Japan famous for their own styles of soba, but few people know that Hokkaido produces the largest amount of buckwheat in Japan. Buckwheat has a very short 3 months harvesting cycle and can grow in poor soil. This characteristic of buckwheat fitted into Hokkaido during the pioneer days where cultivating the untouched land required tremendous labor and days.
Our soba class will be held in a Japanese housing that overlooks a vast flower garden, the woods, the Okhotsk Sea and the Shiretoko mountain range. In winter the garden turns into a snow-covered plain. In other seasons, you may want to take a stroll after the soba experience. We'd like you to try the experience with some thoughts on Hokkaido's interesting pioneering history.
Fare

¥6,500 per participant.
¥500 for every non-participant who wants to try the soba meal only.
Time required

2 hours
Meeting Time & Place

10:00 AM at Inoue Garden
307-9 Aza Shiomi
Abashiri City, Hokkaido ( Google map )
Access

15 minutes ride on the bus or 5 minutes ride on taxi (approx Y1500) from downtown.
Bus: Please take the bus that leaves JR Abashiri Station at 9:23 and get off at the Northern People's Museum at 9:37. 5 minutes walk from the bus stop.
Please Note
If you would like to make cancellations or any changes in your reservations, please let us know by 5pm of the previous day.
Please pay on-site in cash in Japanese yen.
All important announcements including sudden changes and cancellations due to bad weather will be made on the

top page of this website.

At the same time we will also

email you

and

inform your hotel concierge.

Please make sure to check.