1. May 2020 | Lifestyle
Bento Lunch Box – Nice Custom to Keep
It's the midst of Golden Week in Japan. We usually see many camping cars, bikes and sightseeing bus in Abashiri, but not this year. It's been 3 weeks since the State of Emergency Declaration has been laid in entire Japan, and we're strongly "asked" to stay at home.

As you might know, fiscal year in Japan starts in April, thus we've always had the corporate custom of "relocation in April". I was surprised that many organizations kept this custom at this critical time. In Hokkaido, many families moved to Sapporo from other cities (and vice versa), following the head of the household. (Please take notice that as of April 30, there's 762 patients in Hokkaido of which 436 is from the capital city Sapporo!)

One of my friends who moved out from Abashiri to Sapporo texted me the other day. Having a chronical disease, she told me how scared she was and that she couldn't help being overprotective when she went to the supermarket just for a short time – wearing not only a face mask but also rubber gloves and bringing her own in-store shopping basket. I pray she keeps healthy…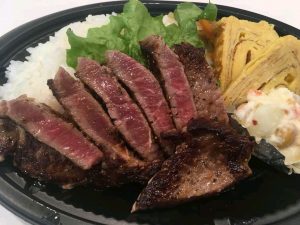 Although the current state of emergency does not restrict us from eating out, hardly anyone goes out to eat resulting in many restaurants having to shut down. So, what has the food industry started? Bento! From izakaya to sushi restaurants, many of them now provide original bento, price ranging between 600 to 1000 yen.
They're different from the existing bento sold at convenience stores and bento shops with added creativity and originality using local ingredients. They're also different from "take-aways" in the sense that a variety of bite-size food are packed in one bento box. For me opening the lid of a bento and taking a first glance of its content is like a small entertainment by itself. It could be so gorgeous that you feel you hit the jackpot💲 It could be colorful with lots of healthy vegetables🍅 Or it could be "kawaii" and make you smile 😊 When everything is so stressful, bento can be an enjoyment!
Not only the authorities, but also the locals encourage each other to buy bento to help the local food industry. Bento is one Japanese custom that we can't drop today.