26. Mar 2023 | Lifestyle
Hokkaido Trivia – Ways to Enjoy Soba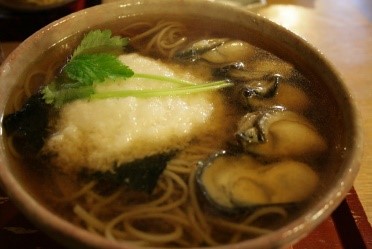 We tend to think of Hokkaido as a secondary region when it comes to enjoying soba, the Japanese noodles made of buckwheat. Compliments usually go to Nagano prefecture, where there are many famous soba brands.
But did you know that Hokkaido is the number one buckwheat producing prefecture in Japan? We produce more than 42% of the entire yield (FY2021), giving a wide gap with the second ranking Yamagata prefecture, which harvests 9% of the entire production.
Here are some ways to enjoy soba like a Japanese 🙂
1) Slurp!
Believe me! It's not bad manners at all to slurp soba. We only slurp because it brings out the subtle fragrance of buckwheat that stimulates our appetite.
2) Try soba in various regions
Each region has its original recipe along with the authentic ways of serving soba. In Hokkaido, especially in Abashiri where I live, warm soba is often served with oysters (usually steamed or lightly stewed). Nagano – walnut dipping sauce, Kyoto – dried herring topping, Hokkaido – oyster topping, Niigata – hegi (seaweed added to the buckwheat flour), Iwate – wanko (small portions of soba noodles are served in small bowls and refilled repeatedly)
3) Don't miss the soba-yu!
Japanese drink the hot water that's left after boiling the soba. It doesn't sound appealing, but soba-yu contains all the buckwheat minerals – proteins, Vitamin B, rutin, etc. It's fragrant and also nutritious! Some Japanese order the cold soba just for the sake of getting the soba-yu (since soba-yu is served only with the cold soba).
When you place order for the cold soba, you'll automatically get a pot of soba-yu. When you've finished with your noodles, pour the soba-yu into your dipping bowl with some dipping sauce, remnants of the chopped onions and wasabi for flavoring. Sip from the dipping bowl.
Bon Appetit!
Rf: data from Japan Agricultural Cooperatives Communications website
* Written by Junko, a national licensed tour guide (in English language) and owner of this website.